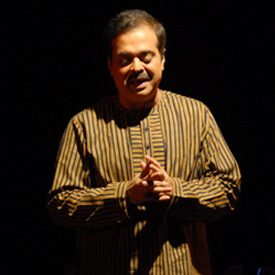 The greatest skill of an actor lies in drawing the audience almost effortlessly into the time-frame, circumstance and particular dilemma of the character he is portraying. The degree of success, of course, depending upon how completely he has poured his 'local identity' into that role. Journey with the multi-talented Shekhar Sen'smusical mono-act's protagonist 'Saahab' into the highways and by-lanes of an average human being's mind and heart and you will find yourself saluting the creative sensitivity of this writer-actor-singer-director, for Sen is able to make the agony and ecstasy of his 'Everyman' find many an echo in your own inscape too!
Shared in a chatty and therefore intimate style, Shekhar's simple story of the 'highs and lows' peppering the life of a motherless boy from a small town grips your imagination as you go down nostalgia lane with this endearing character through his teen-traumas and youthful escapades, wince at his hurt and clap for his triumphs.
So much about the universality and global appeal of the content. What takes your breath away is the showcasing of this simple narrative in an enchanting array from our treasury of musical genres – folk, ghazal, geet, qawwali, bhajan, kirtan, even khayal and tappa- each enhancing a twist in the tale and each sung by Shekhar with bothfeeling and finesse!
A thematic departure from his earlier trilogy of larger-than-life poet-saints and revolutionaries – Tulsi, Kabeer, Vivekanand ,ShekarSen's 'Saahab' is a statement of how an artistic imagination can soar seeking a fresh horizon, even as it unravels the ups and downs of a salt-of-the-earth, homespun hero.